A few weeks ago, my family took a vacation to Knott's Berry Farm for my sixteenth birthday. (That was in April.) We couldn't go then because of that wonderful institution called education. Anyway, for all you people who don't live near the west coast of the United States, Knott's Berry Farm is family amusement park in southern California. We went with my cousins and had lots of fun!!!
Also, for the past few Aprils, my church has gone to a youth conference in California. While there, we go to Six Flags Magic Mountain, another amusement park with lots of roller coasters. (The most of any Six Flags, I might add)
Here are some of my favorite roller coasters from both parks. (We've also been to Disneyland, but I was little and didn't go on any large coasters.) Also, these are not ranked!! (Except, I've saved the best two for last =)
~~ Ghost Rider (Knott's Berry Farm)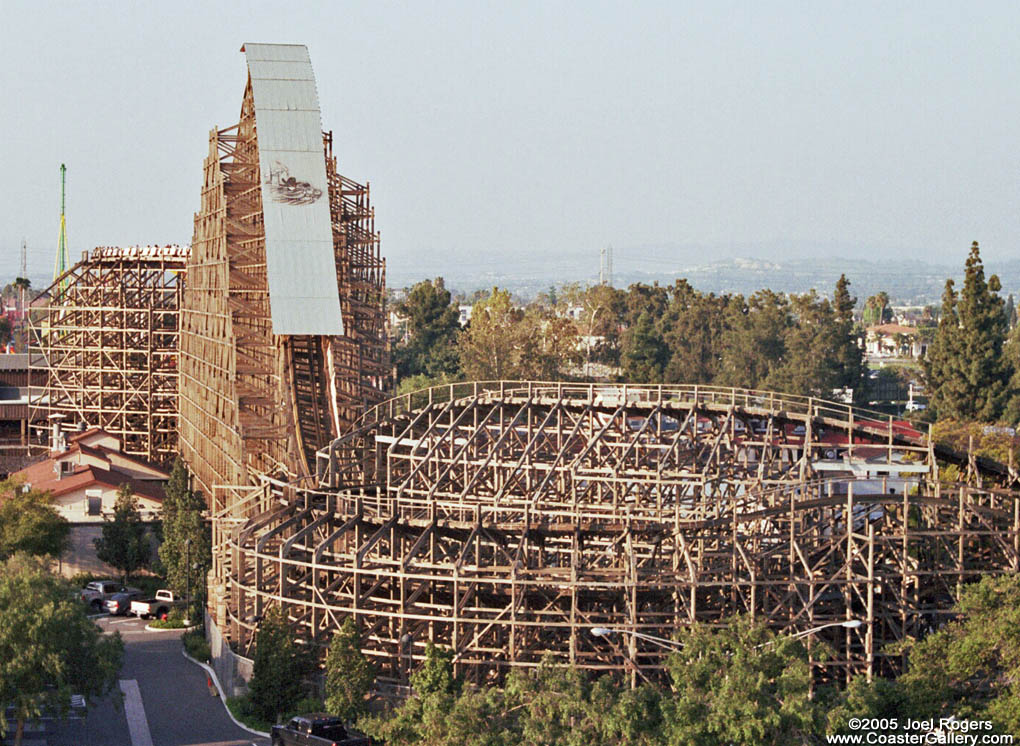 This is a wooden coaster that doesn't go upside down, but it is not for the faint of heart!! This thing will shake you until you wonder if your head is still attached!! The above picture shows the first drop, when you think you are gonna die. Then you go on a bunch of twists and other drops until you get to the top of another hill, where you can rest for about fifteen seconds. Then you are off again until the ride ends!! Beware, the Ghost Rider bumps, a lot!
~~ Goliath (6Flags)
This ride is AWESOME!!! That drop tho!!! 255 feet!!! (78 meters!!) This coaster is so much fun!! First you have the drop, then you go into a spiral and feel like you have a invisible hand pushing you into the seat!! The drop is not that scary but almost the most fun you will have in your life!!! (Sorry for the exclamation points, it's better than continually using CAPS LOCK, I guess)
~~ Montezooma's Revenge (KBF)
This coaster launches you from 0 to 55 MPH (in 3 seconds) through a loop. Once you get to the top of the climb on the end of the loop, you fall back and do the loop backwards!!! The scariest part is the initial shock of 0 to 55 MPH!!! You are thinking "Oh this is a nice, short but sweet coaster!" Then WHAM you can't breathe for the next fifty seconds!!! However, this coaster is loads of fun!!
Stay tuned for Part 2 which includes this monster!!!!