She looks like she's fifteen!!
And that hair!! It's auburn people!
I had trouble getting into this book because I had already read it/skimmed it A LOT!! (That's what I've done to all the Anne books :) But after I got into it, it was pretty good! LMM did go off on the scenery a little bit (have I mentioned that I'm not a nature person? ;), but over all, it was a good read!
In this book, Anne has left college and is the principal at Summerside High for three years. (Year One was the longest in the book) She lives in a tower room (LOVE) with two widows and their maid/servant/caretaker Rebecca Dew. She has trouble with school and society in general at first because of THE family in Summerside (there are always Families in these books! Pyes, Pringles, Andrews, Barrys...), but eventually, they come to respect her. (The resolution is really odd and happens way too fast!) She makes friends with Little Elizabeth and unfriendly coworker Katherine Brooke. (That's one thing I love about Anne: she makes friends easily) And she basically just lives in Summerside for three years during school.
This book starts out as letters to Gilbert (with much cut out ;), but occasionally changes to third person (is that what you call that?). I really enjoyed the letters but understood why the change was needed occasionally. Also this book was written with little scenes with only a few overarching stories, a style I really like (in moderation;) !
The one nature thing I did like about this book was the wind!! I really like the hot winds that come through Phoenix (more on that later this week ;)
This is a good book, but like (most of) Anne of the Island, doesn't really stick out to me. However, you should read it! Especially if you like LMM or Anne :D
P.S. I've already started Anne's House of Dreams, and it is SUPERB!!
P.S.S. I found this shirt that I think is hilariously awkward! Therefore, I want it! "That day you broke your slate over my head in school" :D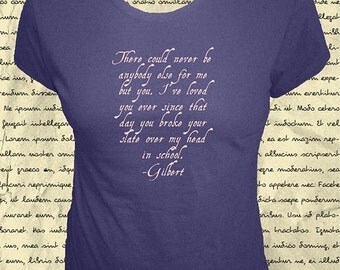 EDIT: I forgot!! Hamlette at The Edge of the Precipice is having a book giveaway!!! Go check it out
HERE
!