Well, I've finally read it! What! You thought everybody had read this! Well, not me! You see, I started it numerous times, but always got bogged down in the love story and the phrase about being tied to apron strings. (I seriously remember that phrase striking me as sort of cool and that's when the story got boring...)I knew the story, but I had never read about Laurie's rejected proposal and his and Amy's love story. It was beautiful!
Anywho, now on to the real review! I started this book right after finishing Little Dorrit. Let me tell you, going from Dickens' verbosity to Alcott's straight-forward no-nonsensity was a shock! (Yes, I made up a word) I eventually got over that shock and enjoyed the rest of the book. It wasn't as preachy as I remember, although some of the ending chapters had sermons on stuff I don't even remember now. It definitely wasn't as preachy as Jo's Boys and How They Turned Out! Man alive! That's my least favorite book of the trilogy.
Also, was the end of Little Women the same ending as Little Men. I know it wasn't written the same, but was it the same occasion?
I sort of sympathize with Meg. After all, we're both the oldest sister, but I've never wanted to have the nicest clothes or anything like that, plus her childrearing methods.... Guys, I can't stand consistently misbehaved children.... I just came off a week of Vacation Bible School and yeah....
Oh Jo! You remind me of myself, especially of my bad traits. My impulsiveness at times, my annoyingness (which apparently isn't a word), and my tendency to push younger siblings out of important stuff. But I still like you because you grew out of those traits! There is hope!
I've never really liked Beth (And the whole blogsosphere collectively gasps, glowers, and glares) I never really liked her perfectness. And her shyness gets on my nerves. But this time around though, I appreciated her attitude about death. She knows it's inevitable so she focuses on Heaven and how great it's gonna be there! That attitude is how I want to approach my life!
I never really liked Amy either, but I love the woman she grows into! Yet, I can't really get over Amy's decision to give up her art because she would never be the best. Can't you just enjoy art for art's sake. I'm never going to be the best piano player or writer, but should that stop me from trying? For Pete's sake, you can always find someone better than you or different from you at some aspect of your art/work! Anyway, rant over. I think she took it back up, so all's well that ends well!
A word on Laurie: He's awesome! I probably would never be romantically interested in a guy like him, but he would be a great friend! Actually, he reminds me of a guy who used to go to my school! Except that guy wasn't moody and didn't consider running away and stuff. He was a great friend and basically the only reason I made it through my eighth grade year! Let's just say the other guy was a little bit annoying at that time. (Seventh grade boys. UGH)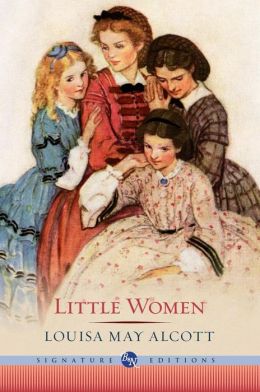 I've never heard the word Marmee EVER used anywhere except in Alcott's writings. Did she make it up, or was it a legit (LAWFUL) thing?
Finally, the theme that just stuck out to me about this book is growing up. Meg is practically grown up, Jo doesn't want to grow up, Beth never grows up, and Amy longs to grow up. The girls grow out of most of their flaws and become better people! I liked that theme because it seems to be true. If we have Christ and let Him make little adjustments in our growing-up years, we will turn out awesome!
Speaking of Jesus, I got a pretty big whiff of salvation by works from this book. Everybody tries hard, but nobody asks God for help. (Except for Jo's prayer which was actually pretty cool and genuine) It's like Alcott was saying you can get through life and to Heaven by yourself if you just try. But the only way to get to Heaven is through Jesus Christ. Once you have Him, you don't have to try hard because He is in you living the Christian life for you! As the song I'm listening to right now says, "Greater is the one living inside of you than he who is living in the world.
All in all, I enjoyed Litlle Women! It really whet my appetite for Little Men though! Thanks Hamlette for hosting an awesome readalong! And for the cool gifts I won :D I especially loved the different covers you featured! Also, this is the reading for an essay contest I plan to enter! Yay for killing lots of birds with one stone! And thanks Hamlette for introducing me to the '78 miniseries! I haven't watched all of it, but it seems awesome so far!
On a different note, I'm flying out tomorrow to go to Kentucky and Tennessee for about ten days! Yay for two hour layovers when you're flying by yourself.... Anyway, so if my blogging presence isn't that strong, (not that it's strong now) that's why.
Who is your favorite March sister? Least favorite? Favorite movie adaptation?