A while ago, Naomi did these letters to random strangers she saw. I enjoyed them, but never thought I would do them. However, I met/saw a lot of people on this trip who I'll never see again, and I have some stuff to say to them!
Awesome picture of Phoenix from the plane!
Dear Father/Son at the Denver airport:
Thanks for having a plank and pushup competition in the airport. Sorry (not really) for awkwardly staring at you while trying to disguise the fact that I was awkwardly staring at you and possibly taking a picture to document the awesomeness. But you stopped before I could take it :(
Dear Redhaired Worker at Dollywood:
Thanks for making sure I didn't fall out of the Wild Eagle two of the three times I rode it. Thanks for acknowledging my Captain America shirt.
Dear Redhaired Dude at Dollywood With Whom I rode Mystery Mine:
Thanks for talking to me about roller coasters. Thanks for being awesome and friendly and willing to talk about the awesomeness that is Mystery Mine. And thanks for looking so funny in your picture from the ride cuz it made me laugh.
Dear Random Person at Dollywood:
Thanks for imitating me when I said "Oh schnaaaps" when it started to rain hard. It made me laugh!
Cool realllly old cemetery in B-town. It's so old you couldn't even read the names!!
Dear Emporium Guy in Bardstown:
Thanks for being funny and friendly. We saw each other twice, and each time you were funny and talked to me as if you knew me my whole life. You're awesome! And so is your store!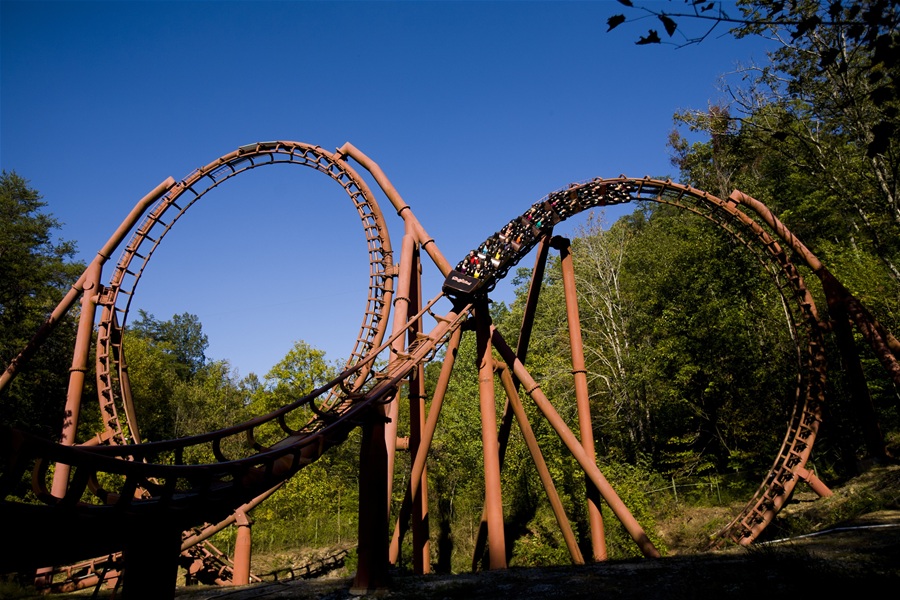 From CoasterBuzz.com
Tennessee Tornado
Dear Random Guy I Rode Tennessee Tornado With:
Yes, I agree, Tennessee Tornado is basically the perfect roller coaster.
Dear Friend of my Mamaw's:
Thanks for the ticket to Dollywood! I had a blast!
Arthur Rice, Me, and Andy Stringfield
Arthur Rice is the lead singer for the Kingdom Heirs
Andy Stringfield is the piano player and therefore holds one of my dream jobs
Dear Arthur Rice (Okay, he's not really a stranger cuz he's a little famous but he still basically is):
Thanks for asking me what is fun to do in Phoenix in August, even though I totally blanked because nobody goes outside in August if they can help it... And I'm kicking myself because I should have invited him to my church!!!
One of my cousins on my Dad's side
He didn't want "his identity on the Internet" so he doesn't have a face
Dear Random Guy in the Bardstown Baskin Robins:
I really didn't need you to correct my cousin and tell us that "amore" means love in Italian. I was in the middle of telling him that....
Dear Guy in my Grandma's Church:
Thanks for shouting "Amen" and waving your hand during the sermon. It was entertaining and encouraging.
Cool old schoolhouse by my cousin's house
Dear Pastor of my Grandma's Church:
Thanks for letting me play offertory. I had a blast! Thanks for teaching me The Church Will Roll On, cuz it's an awesome song! I also enjoyed your sermon!
Dear Guy At Dollywood Wearing A Captain America Shirt:
Thanks for noticing my shirt and giving me the "Sup we're awesome" halfway head nod cuz I was wearing my Captain America shirt too.
Cuz my uncle Zach sent me this at the Mexican restaurant
Dear Kentucky Mexican food:
You tried. But ya'll need to get some real Mexican in Arizona or Cali!!! (Because our fast food Mexican is better than your sit-down Mexican)
Dear You, yeah you:
Thanks for reading this! Now, I have a question! How many of you would be interested in album/CD reviews? They would probably be mostly piano and Southern Gospel albums, but I also like Broadway, Christmas, oldies, and soundtracks. What would you like to see? You can also add those answers to other comments
HERE
in my improvement questionnaire. Thanks so much!!