Wow! August was a whirlwind. From music camp to school starting! It was just, wow!! Phew!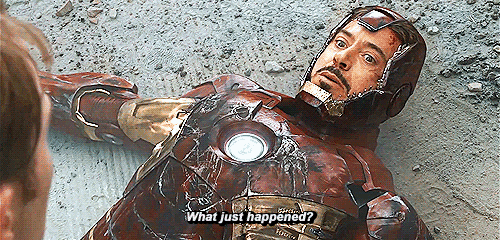 I feel you RDJ!
I'm pretty sure I went through every single stinkin' emotional phase known to man. I also made a bajillion awesome friends, learned tons of new things, didn't care, cared enormously, cried a lot, laughed more, got my first black eye, and had the experience of a bus ride with like 60 Jrs/Srs. It was LOUD!!!
#SquadGoals
The first week of August, I went to music camp. It was an amazing experience! I made so many friends who liked the same things as me, and we all hung out together and laughed and had a great time! I was inspired to take my music farther than ever before, but I may write a blog post on that later, so suffice it to say, I was challenged. It was so cool to be around talented people who are better than you. The Bible says "Iron sharpeneth iron," and I definitely felt sharpened that week. (Also, shout out to my camp friends who are reading this! Don't you just love it when people you know in "real-life" read your blog!!)
There were sooooo many pianos at camp!
Music update: Lord willing, I'll start a YouTube channel sometime in the next month. In the meanwhile, I'm learning modern songs that everyone knows but me (All of Me, Pirates of the Caribbean, River Flows in You, etc.) I learned how to use the music writing software I have, so I'm writing out one of my arrangements! (It's is amazingly cool to see YOUR OWN STINKING MUSIC on paper!!!) Because I'm my own piano teacher this year, I'm trying to do as much as I can!! Plus, I'm trying to add in a little bit of classical music/classical music appreciation stuff. I'm also arranging a lot of songs for offertories and preludes and such. If you know of a popular song that every pianist needs to know, please, please, please enlighten me!!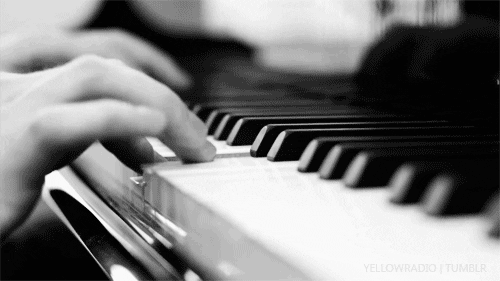 GUYS, I found a cool Naomish GIF because I don't know how else to describe them!!
There was an all-nighter with churches in the Phoenix area the Friday night before school started We went to Flipside (sort of like an I-don't-know-what, but there's laser tag, an arcade, bowling, pool, and stuff like that)
Annnd I got my first black eye that night. We were playing tag and some random guy and I were both dodging the same tagger and ran into each other's heads. I was just gonna walk it off when all of a sudden my friend was like "Ashley, your head's getting bigger!" And it was. And I popped a blood vessel in my eye. And I had a black eye for like a week, but it's finally gone. There's still blood in my eye tho...
And then school started.
I have no classes in the afternoon, so that's nice. I help with the preschool for a half-hour each day, and read a lot. I practice piano at school too. Even though I've only been in school for two weeks, it seems like a lifetime. Maybe it's cuz I'm a senior!!! #SeniorSwag (Last year of high school for you people who aren't Americans. Year 12 or 13 depending if you count Kindergarten) Do you ever just look at Kindergarteners and think, Wow, y'all have 13 long years ahead of you!
How I feel about finishing GWTW and school!
GUYS I FINISHED GONE WITH THE WIND!!! Finally!!! Yay!!! Woohoo!!! So that review should be coming soon! And I finished the Laura Years of the Little House series! Summer projects: FINISHED! I'm going to take a break before the Rose series and read On The Way Home, Laura's diary entries from their trip to Missouri. And I watched the Glenn Miller story!!! It was sooooo amazing!!!
Looking forward:
September 2 - Green Gables Fables Season 2 I'm so excited!!!a;slfja;lfkja The Roy/Gilbert conflict will be sooo epic!
September 8 - Masked premiere! It's looking pretty cool!
September 25 - The new Collingsworth Family CD comes out and I can't wait because all of the previews sound amazing as usual and I love the Collingsworth family so much and I made a run-on sentence for them!
Oh yeah, I officially applied for ASU, but now I just have to mail in my transcript and find scholarships!
So, has school started for you yet? And please, what other piano songs should I learn? How was your August? (And yes, Lois, I know you don't have to go back to school... #Don'tRubItIn :P)