demanded
politely asked for more movie reviews. And I haven't been very good at giving you what you asked for :( For some reason, I feel like I struggle with these, but I'll do my best!
Hiddles looks better with dark hair
The Five Pennies is tied for my favorite Danny Kaye movie ever (Court Jester being the other one). Also, this one's for Lois, because she knows that this movie exists and is therefore an amazing person!!!
Dat face doe
For Christmas, my siblings and I asked our aunt and uncle for The Court Jester with Danny Kaye. What we got was a two disk pack with The Court Jester and The Five Pennies. Both are wonderful movies, and I really need to review Court Jester sometime, but not today. Anyway, I've watched Five Pennies three or four times now, and I love it more every time! I'm pretty sure most of you haven't seen this movie, so I'll try to be sort of specific without being spoilery. *snort* like that's possible...
The guy on the right is the guy who gets him the date.
The movie opens with Loring "Red" Nichols (Danny Kaye) going to his new band in New York in the 1920s sometime. Red is originally from Ogden, Utah. (North Ogden or South Ogden?) The band leader is Bob Crosby, Bing Crosby's brother. (I'm pretty sure the main word slip-up in the Perham house is the difference between the Cosby Show, and Bing CRosby. I'm not even sure I'm writing it correctly now...) Bob is a jerk, by the way. Probably not in real life, but in the movie, yeah.
Bob Crosby
Later that night, some guy, I think his name is Dave, takes Red out for a double date. (I've seen this movie four times and I don't remember the dude's name.) Red really plays up his farm roots and disgusts Bobby, a girl, just to specify, his date.
Bobby is in the middle
Also, Follow That Leader is a really catchy song!
Dave, his girlfriend, and Bobby take Red to a nice tea house and have a tea party! Pssshhh, it's tea that Dave's mom used to make for the mafia on Sunday nights. AKA alcohol. (Just for a refresher, alcohol was illegal in the US in the 1920s, so they disguised it as tea.) Anyway, Red gets sick and crazy, but ends up making a friend in Bobby and he plays his cornet for LOUIS ARMSTRONG!!!
Red Nichols and his Five Pennies
Glenn is in the back.
Bobby and Loring (Red) get married, Red loses his job and hilariously fails to get another one, and Bobby is pregnant. (I prefer the phrase "with child" TBH)(Not really ;) But she doesn't tell Loring/Red. Longish story short, Loring eventually starts a band. And then he finds out Bobby is pregnant. When she has the baby girl, Dorothy, Bobby tells Red that the baby won't have to change his dream of traveling with the band. And for a while, it doesn't.
But one night, Red takes 5-year-old Dorothy to a night club. Resulting in possibly my favorite song in the whole movie: "Oh When the Saints." Bobby puts her foot down. Dorothy must be a normal child and have Wheaties and orange juice for breakfast and get up at seven. Cuz that's apparently what normal kids do. So they send Dorothy off to a boarding school for a while and sort of get disconnected from her. Then tragedy strikes! The rest of the movie deals with family and priorities and dreams and other great stuff like that!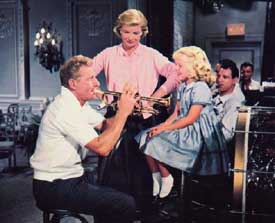 Little Dorothy is so stinkin' cute!
Just trust, me this movie is great! It's not that plot-driven. It's more like "Let's follow this guy around and see what happened in his life." But his life was exciting so that's great!
Ala kazam kazam
This movie will probably make you cry. I don't like to cry in movies, so when we're five minutes from the end, I prep myself. But then you get to the end, and other people in the movie are crying, so you're about to cry, but then you remember that you and your sister have this competition on who won't cry. It's a happy/inspirational/everything-worked-out-in-the-end kind of crying though.
Anywho, that's the synopsis, so here's some awesome things I like:
THIS SONG!!!
Danny Kaye cannot play. You can see his fingers mess up a lot!
LOUIS ARMSTRONG IS IN THIS MOVIE! He sings an awesome version of "Oh When the Saints" with Danny Kaye. He also plays a mean trumpet! Or bugle. Or cornet. I was confused. Obviously.
Dorothy as a little girl is soooo cute. She bluffs her dad out of a game of poker, and sings with Louis Armstrong and her dad in a club! To which her mom says "I don't want her singing in nightclubs until she is at least eight years old!" We do have standards you know!
Speaking of the mom, Bobby is a pretty great wife who encourages her husband a lot. I mean she's not perfect, but who is?
The music!! Ahhh! That's basically why you want to watch a musical right? "Oh When the Saints, "Lullaby in Ragtime," Back Home Again in Indiana," "The Five Pennies," and more! The trumpet is great, and there's all these great jazz songs!
The real Red Nichols And His Five Pennies
I'm assuming Red is on the far right?
This movie is based on the real life of Red Nichols, and therefore has real people like Glenn Miller in it! (Glenn was apparently in Nichols's band) (No, I haven't seen the Glenn Miller story, but I want to!)
This movie gives you a lot to think about! And those are the kind of movies I love best!
*sniff*
You should totally watch this movie! Like today! It has great music, a great story, and great lessons! I totally recommend it! (There are some scenes my family skips just FYI)
So, have you seen The Five Pennies? What was your favorite part? Do you like Danny Kaye? Also, what other movies should I watch?