I watched A Charlie Brown Thanksgiving Tuesday night for the first time.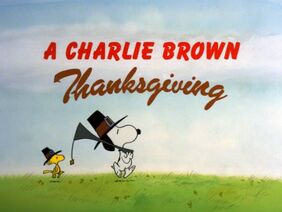 (*collective gasp* HOW OLD ARE YOU AND YOU HAVE NOT SEEN THIS MASTERPIECE OF CINEMA?!)
Anyway, as I said, I watched A Charlie Brown Thanksgiving Tuesday night and it reminded me of why I like Thanksgiving. It's simple.
The point of it is to be thankful for what you have, partake of your blessings, and maybe get together with family. You get some days off, you watch a parade, you run a 5K, you eat cinnamon buns and nachos (a Perham tradition), and you just sit around and enjoy each other.
Now there's that whole part about the dinner and entertaining, but if you have a big family and do a potluck, that's not too bad. And some people enjoy that, so you're happy! And if you don't have a big family and they don't like turkey, why have a huge dinner? (Seriously, we're having Kentucky Fried Chicken for the second year in a row!)
Thanksgiving is just all around a happy holiday! It kind of gets skipped over in the stores, but that's part of its charm. It's a simple reminder of what's really important in life right before life gets uber busy: God, family, friends, and food.
Now, let's get to some things I'm thankful for this year!
First, I'm thankful for God and his faithfulness and love even when I'm a horrible person and don't want to follow Him. I'm thankful for his leading and comfort in hard times. I'm thankful for his Word and the encouragement it gives. And I'm thankful for prayer and fellowship with Him because of all it does for me!
Secondly, I'm thankful for my family. My parents are awesome and love us and sacrifice so much for us. My siblings are pretty cool too even when I'm jerky. I don't get to see my extended family too often, but they're wonderful and love us to death and encourage me when I'm down.
Third, I'm thankful for friends. God has really blessed me with some new friends this year. Some were only in my life for a week. Most are long distance (Like you guys!) Others, I see everyday! I'm thankful that we can be stupid in Photoshop together and laugh over dumb stuff in a group message. I'm thankful that I have friends who are smarter than me, including y'all so I can text questions about movies or music or blogging and get legit answers! (LAWFUL!) Basically, my friends are the best, and I don't even live in the same state or even country as most of them! I LOVE YOU GUYS!
Fourthly, I'm thankful for many material blessings, such as food, shelter, clothes, and all the technology we've been blessed with. I'm also thankful for music, literature, art, and ideas because people do some amazing stuff with them! I'm so glad God blessed us with them and the ability to glorify Him through them!
So that's my short tribute of thankfulness! Have a happy Thanksgiving you Americans and everyone else have a happy Thursday or Friday depending on where you live!
On a side note: I'm gonna be a horrible wife on that first Thanksgiving who has always avoided "real" meat and doesn't know anything about cooking turkey let alone a whole stinkin dinner. Basically, I hope my future husband can cook himself meat because I 1) don't enjoy meat and 2) don't enjoy cooking. (Am I even American?) I just need to marry a vegan. Yeah, that's it.