Welcome to the Little House blog party! I hope you enjoy some vanity cakes, drink some lemonade, watch some buggy races, and have fun. Thanks for joining me this week! I have a slough (Like Big Slough...) of posts planned, including some very special guest posts and a giveaway, but more on that later :) This week will be a celebration of Laura Ingalls Wilder's 149th birthday and the Little House series as a whole. I'll be putting up more of
my
Little House story later today. I was inspired to do this week after reading the whole Little House series from Martha to Rose last year. I enjoyed that journey immensely, and you can read about it
HERE
.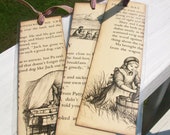 But now onto the festivities. First, a giveaway. (Thanks to Eva and Hamlette for their advice on this!) I'm giving away one set of three bookmarks made from pages of Little House books. They look awesome and vintagey :D You can see more pictures
HERE
. Sadly, I will only be able to ship in the US. I'm terribly sorry for my European/Australian/Antartican/Canadian/non-US pals :( Here's the giveaway!
a Rafflecopter giveaway
And NOW the best part of any blog party, the TAG! (Guys, Tag is seriously my favorite outdoor game. In elementary school we played freeze tag every single day, and in my youth group we play so intense we jump out of windows!) Lemme know in the comments when you've filled it out! I'll compile a link list and a list of my favorite answers at the end of the week! Thanks to Naomi for that lovely idea!) And if you don't have a blog and want to fill it out, feel free to do so in the comments. I want to read ALL of your lovely answers!!
(And I just updated these because of a confusing question :) Thanks Naomi!)
1. How did you discover Little House?
2. Which Little House series have you read? Which are you favorite? (Laura, Martha, Rose, etc.)
3. Have you read any "extra" Little House books? (non "canon", cookbooks, song books, craft books, little kid books, etc.)
4. Have you read any biographies/autobiographies about Laura or any of the Little House girls?
5. If you could be in any character's place, who would you choose and why?
6. What's your favorite Little House ship? (AKA couple)
7. What's your favorite Little House book? Cover?
8. If you could invite any secondary character from any of the Little House books over for dinner, who would you choose and why?
9. Have you watched the Little House TV show? If so, do you enjoy it?
10. If you could watch a YouTube miniseries on any Little House book or series, which would you choose and how would the basic plot go?
Have fun!
Finally, a few housekeeping stuff: I'm going to turn moderation off because I won't be able to do blog stuff during school. I will do my best to reply to them ALL every morning and afternoon. Just so you know :)