Awww it's done :( I had so much fun hanging out with you guys this week! Thanks for commenting and tagging and just being awesome! The winner of the giveaway is FAITH P! Congrats Faith! Also, shoutout to Ekaterina, Hamlette, and Naomi for writing guest posts that we all loved! You peeps are awesome!
I loved reading all of your tag answers. I believe I saw that twelve of you filled it out! Woot woot! Here are some of my favorite answers!
1. How did you discover Little House?
A lot of you discovered the books through family. A few of you even had the picture books which are so bea
utiful!
2. Which Little House series have you read? Which are you favorite? (Laura, Martha, Rose, etc.)
I have read the Laura and the Rose books.

I prefer the Laura books, partly because they are the "originals" and partly because I like Laura's character better. - Rose
I CAN'T. (Choose. I can't choose.)
I'll have to go with Laura's. 'Cause they're all so fat, and they're all the classic ones. - Naomi
Laura's still remains my favorite, there's lots of adventures, spunk, and love to go around.

- Michaila
Laura seems to be the general favorite, but a lot of you, including me liked the Caroline series as a close second!
3. Have you read any "extra" Little House books? (non "canon", cookbooks, song books, craft books, little kid books, etc.)
...and a board book kind of like the picture books, except shorter and it has a button on the front cover that when you press it it (used to) play "Pop! goes the weasel". - Lydia
-

I believe I've read a little bit of each. We do have a "Little House Cook Book" which my mom uses a lot. One recipe, apples and onions, (from "Farmer Boy) is a family favorite.

- Ivy Miranda
Also, I have a board game that was based on the TV series. And when I was like 8, we went to the actual site of their dugout home, where my parents bought me a bonnet that I still have.

- Hamlette
Also, I heard that Faith and Ruth did/taught a Little House homeschool year! That sounds like so much fun!
4. Have you read any biographies/autobiographies about Laura or any of the Little House girls?
No. (If Wikipedia articles count then, yes) - Rose
5. If you could be in any character's place, who would you choose and why?
Probably Mary's place. I really identify with her, as she's the oldest and always expected to be good all the time. I would love to see what Mary was thinking when Laura thought she was just being exasperating. - Lydia
I think I would want to be in either Caroline's place or Laura's place. I am most like them both, so I'm not sure which one I would want to be more.

- Ekaterina
I have to say I'd love to be in Laura's place. Because then I could get to date Almanzo, and Almanzo is just . . . awesomeness. (Plus, I would really enjoy having Charles and Caroline for parents. Not that my own parents aren't even more awesome, 'cause they are. I would just enjoy being around Charles and Caroline, at least for a little while.)

-Jessica
6. What's your favorite Little House ship? (AKA couple)
I also love Rose and Paul. But, oh for crying to sleep, that never turned out. The ship, as they say, sank. - Naomi
MARTHA AND LEWIS. (I hope I'm getting his name right, correct me if I'm wrong :P) I ship them HARD.

- Lydia
Ida and Elmer. They're adorable. And I like Cap, but I don't ship him with Mary Power.

- Rosie
7. What's your favorite Little House book? Cover?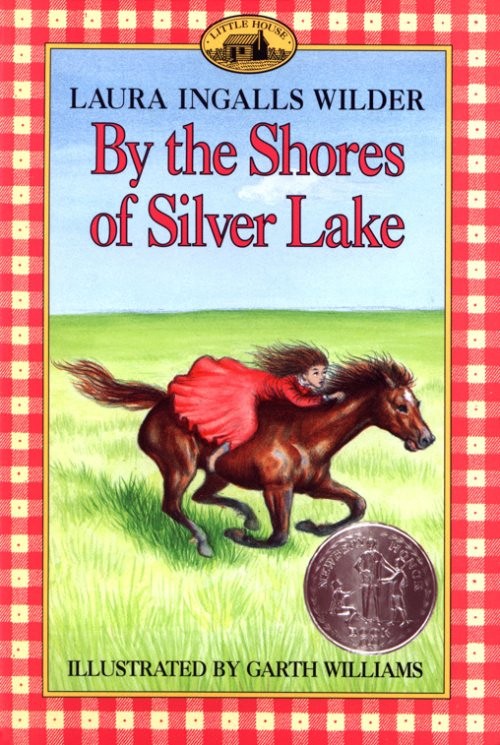 You all had different favorite books. The ones I remember seeing the most were Big Woods, Prairie, and Golden Years. As for covers, most of you liked By the Shores of Silver Lake or Golden Years cuz Almanzo!!
I really love the cover of On the Shores of Silver Lake because that image with Laura with the horse is just so beautiful, and I love horses. I also love the colors and covers of Little City by the Lake and Bachelor Girl, but they don't show the beauty of the wildness and independence of Laura alone on the horse riding. - Ekaterina
8. If you could invite any secondary character from any of the Little House books over for dinner, who would you choose and why?

Mr. Edwards – because he's so funny. Maybe he'd be willing to teach me how to spit... B-)

- Faith
Nellie Olson... because I think it would be interesting and it would probably humor me. - Lois
Why only invite one? Let's make a dinner party consisting of the entire De Smet youth!!

- Rose
-

Probably Royal Wilder. He was hysterical in "The Long Winter," but really any of Almanzo's siblings (although, Eliza Jane was terrible when she got older in the books).

- Ivy Miranda
Cap Garland, 'cause he's amazing.

- Rosie
9. Have you watched the Little House TV show? If so, do you enjoy it?

Yes, I have seen all of the show's episodes, and I love this TV series.

It's hard to put the books and show together. They are both equal, but I like them differently somehow. Does that make sense? - Ekaterina
Indeed I have. Many times, many episodes. I used to be a huge, ginormous fan: but now I'm indubitably prefer the books to the TV show. The TV show still gives me warm fuzzies, and it will always hit home, and I there are so many good good episodes, but

goodness

- all the inaccuracies! A beardless Pa. The Ingalls's ADOPT THREE KIDS. I can't even proceed.

- Naomi
You all have convinced me to watch some episodes! I'll probably start with the pilot cuz that was my favorite as a kid.
10. If you could watch a YouTube miniseries on any Little House book or series, which would you choose and how would the basic plot go?
The people have spoken! We MUST have a Little House web series. The teenage Laura books seem to be the most popular to adapt *hint hint* (Starring Tanner Gillman as Almanzo OF COURSE)

I would choose 'By The Shores of Silver Lake' and watch Laura kind of grow-up and learn to take on some responsibility:) - Hannah
I think it would be interesting to do a miniseries on Caroline Ingalls, from when she first met Charles to where she had Laura. And for the plot, well, it should be the same as the book, exactly, so when your watching it you know every bit is a true story. It would be the Mother of the Little House series brought to life. - Michaila
Hmm, that's an interesting idea. ;) Maybe

The First Four Years

. I'd like to

see

more of what Laura and Almanzo's first years of marriages early were like, instead of the TV rendition. (I mean that's awesome, but not very much like the book. xD)

- Faith
That was so much fun! I can't wait to do another one! (Well, maybe I could take a little break :P) Next week, Rose is running a 1940's blog party that sound so much fun! Hopefully, I'll get a very special movie review up for that! Thanks again for joining this week! I know you all are really busy and I appreciate the time you take to comment and even just read! Have a great weekend!